LILLEY: Ford government stonewalling on releasing Metrolinx info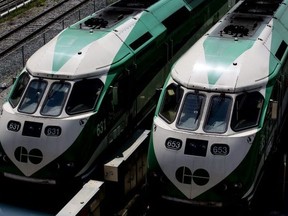 Metrolinx is selling naming rights to its train stations Photo by Veronica Henri /Toronto Sun
The Ford government continues to refuse to release information about contracts and workings of a high-priced consultant who resigned his government title six weeks ago.
Brian Guest resigned his title of "lead, commercial integration" at the end of January, but according to industry sources is still active with Metrolinx.
Now, six weeks after his exit — and months after his name was raised in relation to an inquiry into the Ottawa LRT system, which Guest worked on — the Ford government is still refusing to release basic information.
This includes a report the government admits exists but won't release, on changes Guest pushed for on the construction of Toronto's Eglinton Crosstown LRT.
The only thing the Ministry of Transportation has released are media lines or reactions to stories, mostly to my own columns and often with the column itself redacted.