LILLEY: Happy to ditch the habit of wearing a mask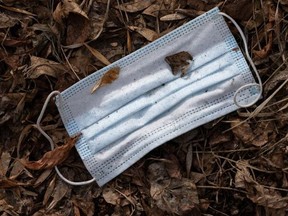 Masking is now optional in most indoor settings in Ontario.
It was a habit really: leaving home Monday morning, I grabbed the mask by the door, put it on, and headed out.
It wasn't until I was in the elevator looking at a sign reminding residents that masks were no longer mandatory in the building that I realized the day had come.
Most stores seemed to have their employees continue to wear masks whether I was in Canadian Tire, Best Buy, Rexall or Loblaws. But it wasn't uniform — just like the shoppers, people were making their own choices, and that's a good thing.
Unless of course, you're the NDP opposition at Queen's Park.
The NDP are clearly making a virtue and a political statement by wearing their masks, despite what Horwath said Monday.