LILLEY: It's time for Canada to stand fully with Zelenskyy and Ukraine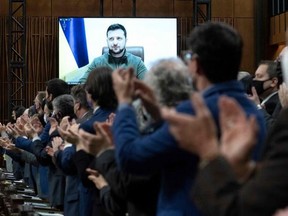 MPs applaud Ukrainian President Volodymyr Zelenskyy in the House of Commons on March 15, 2022. Photo by ADRIAN WYLD/POOL /AFP via Getty Images
The speech was a short, raw, and emotional plea for help from Ukraine's Volodymyr Zelenskyy.
Speaking from an undisclosed location, the Ukrainian president spoke directly to our Parliament in Ottawa and made the case for why Canada, and its allies, need to do more to help them beat back the Russian invasion.
Time and again he asked Canadians to imagine bombs hitting our own cities in Montreal, Toronto, Edmonton or Vancouver. He asked how we would explain the bombing his country is experiencing to our own children were it happening here.
"Basically, what I am trying to say is that you all need to do more to stop Russia, to protect Ukraine, and by doing that to protect Europe from Russian threats," Zelenskyy said.
Any of us imagining those events happening in our country would be distraught at the thought that it could happen and that our friends, our allies, would not intervene to help us. Yet that is the position that Ukraine is in at this moment.