LILLEY: NDP fighting has PCs, Liberals eyeing Hamilton seat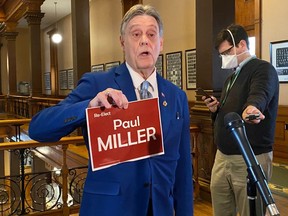 Paul Miller, an ousted member of the Ontario New Democrats, shows his Independent campaign sign at Queen's Park in Toronto on March 23, 2022. Photo by Holly McKenzie-Sutter /THE CANADIAN PRESS
Internal fighting among New Democrats in Hamilton has both the Progressive Conservatives and Liberals rubbing their hands with glee just ahead of the June 2 Ontario election.
That's because both parties feel they have a shot at winning the riding of Hamilton East-Stoney Creek as a result of a war between NDP Leader Andrea Horwath and longtime MPP Paul Miller.
So there was a "pattern of troubling behaviour" that Miller "may harbour" unacceptable views but they didn't find that he actually held them. Then they simply claimed he joined a Facebook group as the reason for kicking him out.
"In all the years I've been in politics, I have never posted anything on Twitter or Facebook," Miller said Wednesday, claiming he doesn't even have the passwords to these accounts, his staff do.
The real reason Miller is out is that he and Horwath don't get along. This is local Hamilton politics, and internal party politics, spilling over onto the big stage at Queen's Park.