LILLEY: Ottawa mayor and police chief deserve blame for convoy mess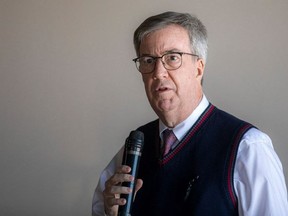 Mayor Jim Watson is pictured at a memorial held at an Ottawa bowling alley on Feb. 5, 2022. Photo by Ashley Fraser /Postmedia News
On Day 10 of the convoy that has taken over the core of our nation's capital, Ottawa Mayor Jim Watson opted for posturing over action. Watson declared a state of emergency, an act that will do little to remove the protesters, their trucks, bouncy castles, or saunas.
What it will do is give Ottawa residents, used to American news about states of emergency being declared, the false impression that Watson is doing something. Our laws differ greatly from the U.S., and having the city declare a state of emergency really just makes it easier for civic officials to buy stuff.
I'm not joking; it's right in the city's news release, which stated that the declaration, "could help purchase equipment required by frontline workers and first responders." Even city solicitor David Evans told the emergency meeting of the police board on Saturday that the move wouldn't give the city any extra legal authority.
"The declaration of an emergency under the Emergency Management and Civil Protection Act does little," Evans said. "It may provide some relief from some of the strictures that we operate under from a procurement standpoint."
Optics over action is what you might call this, the kind of decision that looks like it was made by a high-powered consultant firm like Navigator rather than senior city staff.
Ottawa's handling of the protests over the past two weeks looks all the worse after similar protests were held in Toronto, Calgary, and other cities without the kind of problems seen in the capital.
Thousands gathered near Queen's Park on Saturday, but Toronto Police had blocked access to the legislature for vehicles. Even with hundreds of vehicles — including dump trucks, rigs, and other heavy equipment — converging on the area Saturday, none took root, no semi-permanent camps were set up.
Compare that to Ottawa where bouncy castles are set up on Wellington St. in front of Parliament, completely mocking the efforts of the city and police to control their own territory. Dance parties night and day take place on the other street, fireworks light the night sky, and there's always the constant honking.