LILLEY: Russia pumps propaganda into Canada as part of war effort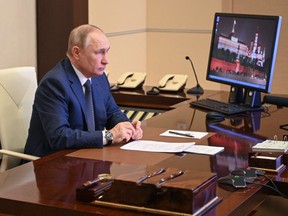 Russian President Vladimir Putin attends a flag raising ceremony on the ferry Marshal Rokossovsky via a video link at the Novo-Ogaryovo state residence outside Moscow on March 4, 2022. Photo by ANDREY GORSHKOV /SPUTNIK/AFP via Getty Images
The main propaganda mechanism for Vladimir Putin's Russian regime is now being dropped from the lineup of Canada's major cable companies but that doesn't mean the disinformation will stop.
RT, formerly known as Russia Today, was dropped by Bell, Rogers and Telus on Sunday as pressure mounted.
So, what kind of false narratives are being pushed by Russia's propaganda machine? Here are the worst of them and why you shouldn't believe them.
So, let's deal with this idea that Russia had no choice but to invade Ukraine because of an expansionist NATO. The reason countries like Ukraine want to join NATO is that they know Putin's Russia is eyeing them for a takeover. This war isn't happening because Putin didn't want NATO on Russia's borders. Turkey joined NATO in 1952 and it shared a border with the old USSR, while Poland joined in 1999 and Estonia, Latvia and Lithuania joined in 2004.