LILLEY: Suzuki, celebrities want to keep you down while living high life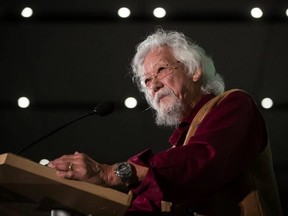 Environmental activist David Suzuki speaks during a rally in 2019. Photo by Canadian Press file photo /Toronto Sun
In what might be the height of hypocrisy, a group of well-heeled, mostly-downtown Toronto types is calling on the Ford government to scrap Hwy. 413.
Celebrities and other concerned souls have signed a letter in support of the David Suzuki Foundation's campaign to stop the much-needed highway.
Interesting.
Did Atwood sign that letter from her home on Admiral Rd. in Toronto's leafy Annex neighbourhood where she's close to the subway? Or did she sign the letter from her second home, located on an island in Lake Erie?
What about Kreviazuk? Did she sign from her Toronto home or her six-bedroom ranch-style dwelling in Los Angeles? I read about how hard it was not being able to fly between those homes as often during the pandemic.