LILLEY: Take Ontario Science Table COVID advice with a grain of salt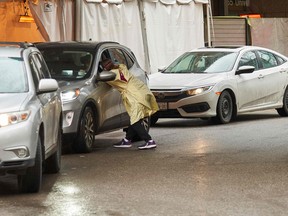 A health-care worker at the Hospital for Sick Children in Toronto leans into a car at a drive-thru COVID-19 testing centre on January 5, 2022. Photo by Geoff Robins /AFP via Getty Images
The Ontario Science Table will release new COVID-19 modelling on Thursday and the question isn't what's in the report, but why should anyone care?
The self-appointed, self-important Science Table has been wrong with their modelling predictions more times, and in more ways, than I can count.
When it was revealed that Premier Doug Ford hadn't personally consulted with the Science Table before agreeing to Dr. Kieran Moore's recommendation to drop mandatory masking, it was portrayed as Ford abandoning science.
Moore, who actually serves as the province's chief medical officer, has said he remains in regular contact with members of the Science Table, so why does Ford need to call them up for a second opinion? A bad one at that!
In their last modelling update, the vaunted Science Table predicted that if Ontario continued on its path to reopening, disaster would strike in Ontario's hospitals.