LILLEY: Trudeau dropped the ball in Europe on oil production, he needs to get this right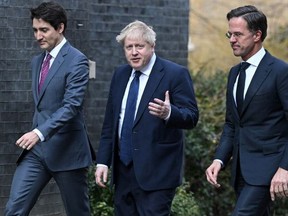 Canadian Prime Minister Justin Trudeau (L) walks with British Prime Minister Boris Johnson (C) and Netherlands Prime Minister Mark Rutte (R) in London, England, on March 7, 2022. Photo by Getty Images /Toronto Sun
When the time came for Prime Minister Justin Trudeau to stand up for Canada as an energy superpower and say that we would do everything we could to increase production and supply to Europe, Trudeau dropped the ball.
He spoke of moving to renewables, decarbonizing Western economies, and being there for each other.
"What we're seeing is a shift in Europe and elsewhere to understand that Russia is no longer a reliable partner. What Vladimir Putin has broken here is a trust," Trudeau said.
Putin has broken more than trust!
His army is rampaging across Ukraine, bombing and pillaging the country while using his petrodollars to do it. With Europe hooked on Russia's supply, Putin continues to receive millions of dollars each day to finance his brutal war.