LILLEY: Trudeau government repackages old promises to fight inflation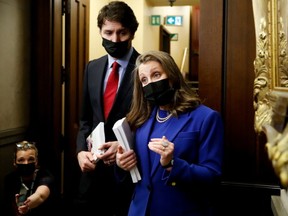 Canada's Finance Minister Chrystia Freeland and Prime Minister Justin Trudeau speak to the media before delivering the 2022-23 budget, on Parliament Hill in Ottawa, Ontario, Canada, April 7, 2022. Photo by Patrick Doyle /REUTERS
Chrystia Freeland's new affordability plan is the same as the old plan.
With inflation hitting levels not seen in more than 30 years, the Trudeau government has been under pressure to do something, thus their "new" $8.9 billion "Affordability Plan."
It's a better answer than they've been offering up over the past several months, but the problem is still the same. Since inflation began skyrocketing last summer, the Liberal answer has been to put forward their plan to cut child care fees. That's great if you have children in that age bracket but it does nothing for people with older kids, no kids, seniors or single people.
It's the same with all of these programs, which, by the way, come with a heavy price tag.
The Parliamentary Budget Office released a report Thursday saying the cost of the dental care program would be closer to $9 billion instead of the $5.3 billion the government has budgeted for implementation. That program to help families with a combined income under $90,000 a year is one of the key demands in the agreement with the NDP to keep the Liberals in power.