LILLEY: Trustees who want to keep mandatory masking in school should be ignored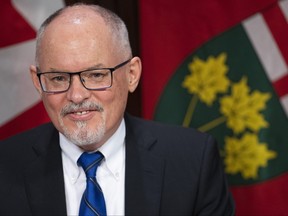 Dr. Kieran Moore, Ontario's chief medical officer of health, holds a press conference regarding the lifting of most mask mandates for indoor settings in Ontario at Queen's Park in Toronto on Wednesday, March 9, 2022. Photo by Nathan Denette /THE CANADIAN PRESS
They can't run our schools very well, but some school trustees think they know better than the chief medical officer on COVID-19 restrictions.
Trustees in Toronto, Hamilton and Ottawa want kids to keep wearing masks even as public health officials say it's time to drop mandatory masking.
It's been this way throughout the pandemic — children are at a lower risk from COVID-19. Rather than reassure parents who entrust their children to the school system, the trustees in Hamilton are sowing fear and confusion.
Trustees with the Toronto District School Board aren't much better.
They passed a motion calling for administrators to write to Moore, the minister of education and Toronto Public Health. They want guidance on the "student health impacts" of following the provincial guidance and permission to take longer to remove mandatory masking and other COVID measures.