MACKAY: Protect Canadians, buy fighter planes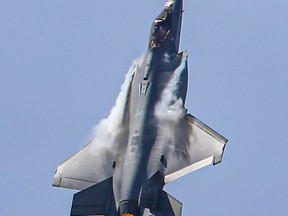 Major Kristin Wolfe flies her F-35A Lightning II at the Toronto International Air Show on Friday September 3, 2021. Photo by Veronica Henri /Toronto Sun
PETER MACKAY
The war in Ukraine and Russian President Vladimir Putin's psychotic obsession with wreaking murderous havoc on a democratic neighbour has had many unintended consequences.
Yet, the strengthening of Canada's own military is at a critical juncture.
The height of public support and investment during the Afghanistan conflict has significantly waned. Upon objective examination, we must admit our military capacity is in jeopardy.
Entering week four of deadly bombardment in Ukraine, and eleven years on in Syria, we are seeing in real-time the cost of inaction and reluctance of NATO to step up to intervene to protect non-alliance member countries. Sympathy and expressions of solidarity won't save lives.