Maple Leafs hold edge in play but lose to Canadiens on a couple of late goals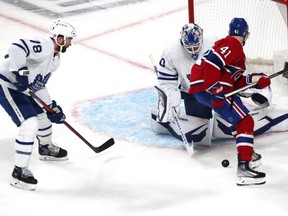 Maple Leafs goaltender Erik Kallgren makes a save against Canadiens left wing Paul Byron during second period NHL action in Montreal, Saturday, March 26, 2022. Photo by Jean-Yves Ahern /USA TODAY Sports
A night after they were eliminated from playoff contention, the Montreal Canadiens remained buried in the Maple Leafs' psyche.
Despite being outshot by the Leafs 51-18 at the Bell Centre, the Canadiens, who rallied to stun to Toronto in the first round of the playoffs last spring, managed to beat their rivals 4-2.
"We played really well," Leafs coach Sheldon Keefe said of the effort in Montreal. "I'll take that game 82 times.
"Not all the shots we got were of high quality. There was a lot of perimeter stuff. But we had more than enough chances to score, more than we did. We didn't get much luck. We didn't score enough to pull away. We let them hang around."
Still, despite Keefe's good feelings about his team, a loss is a loss, and Toronto's inability to solve goalie Jake Allen more than twice cost the club in the Atlantic Division standings.