MCLEAN: Why I'm supporting Jean Charest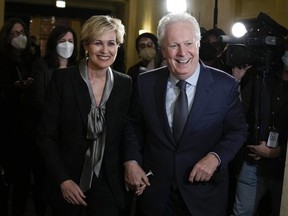 Jean Charest arrives with his wife Michele Dionne for an event with potential caucus supporters as he considers a run for the leadership of the Conservative Party of Canada, in Ottawa, on Wednesday, March 2, 2022. Photo by Justin Tang /THE CANADIAN PRESS
In 1997, yours truly was a 16-year-old student in western New Brunswick, delivering pamphlets and knocking on doors for candidate Gilles Bernier, in the newly created riding of Tobique Mactaquac.
The incumbent, now-Senator Pierrette Ringuette, was re-offering for the incumbent Liberal government led by Jean Chretien. The fractured right vote and the rise of the Bloc Quebecois had the Liberals believing they would easily cruise to victory.
He can deliver a barn burner, and make you realize you live in a great country that is worth protecting and enhancing at every turn. His arguments are less about self-promotion than about promoting Canada.
Contrary to public expectations, the PCs won Tobique-Mactaquac, and Charest put his party back in official party status in the House of Commons. He had spent four years criss-crossing the country, on a shoe-string budget. He has noted in speeches how he often stayed at the homes of supporters, given the dire financial state of the party in those days.
But travel he did. Town by town, one step at a time. Relentless perseverance, even in the face of difficult odds. That spirit, that fight, has defined Jean Charest. It continues to this day.