New Blue Jay third baseman Matt Chapman will be 'significant threat'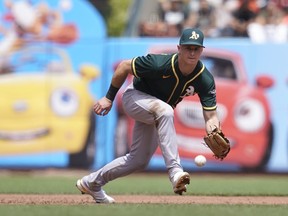 Third baseman Matt Chapman ranges to his left to field a ground ball for the Oakland A's last season. The three-time Gold Glove slugger was acquired yesterday by the Blue Jays for four prospects. Photo by Jeff Chiu /Associated Press
DUNEDIN — It started as a gloomy day at the Blue Jays player development complex with thunderstorms in the forecast and most outdoor drills on hold.
And then lightning struck.
Though there is inconsistent offensive power lurking in Chapman's game, it was his defensive ability that fuelled the Jays to pay the steep price of four prospects, including their 2021 first-round pick, pitcher Gunnar Hoglund.
Chapman has proven power, hitting 36 homers in 2019. Last year, he hit a career-low .210 (.243 for his five MLB seasons) but still slugged 27 homers with 72 RBIs. And when surrounded by the beasts in the Jays batting order he may be even more prolific.
The news of the Chapman acquisition sparked a duelling celebration in the Jays clubhouse to accompany the 23rd birthday of first baseman Vlad Guerrero Jr.
"We have a complete team from the infield, to our offence one through nine to the best rotation in baseball," reliever Trent Thornton said. "This group is going be something special to watch for sure. If we don't win the World Series it will be a disappointment."