NFL star Antonio Brown demanding $5Gs from model after romp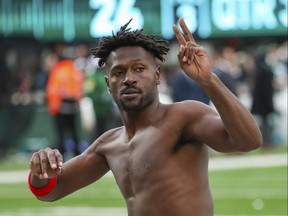 Tampa Bay Buccaneers wide receiver Antonio Brown gestures to the crowd as he leaves the field while his team's offence was on the field against the New York Jets during the third quarter of an NFL football game Sunday, Jan. 2, 2022, in East Rutherford, N.J. Photo by Andrew Mills /NJ Advance Media via AP
Troubled NFL star Antonio Brown is calling for a $5,000 penalty after posting photos of himself in bed with a model.
According to the New York Post, Brown — who famously walked away from the Tampa Bay Buccaneers in January — posted a photo over the weekend on his Instagram story of himself in bed with model/music producer Cydney Christine.
Following his unravelling and going shirtless during the Week 17 game with the Jets, it emerged that the night before the game he engaged in hormone-charged hijinks with a notorious "influencer" famous for licking an airplane toilet seat and posting it to TikTok.
"When we had sex, he wanted to film it and make a tape on my phone. He wanted me to put it out there," Ava Louise told the Post.
Now professionally homeless, Brown has said he would like to play in Baltimore or Dallas.