OPINION: The beginning of Putin's economic collapse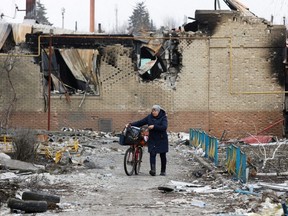 A woman walks with a bicycle next to a building damaged during Ukraine-Russia conflict in the separatist-controlled town of Volnovakha in the Donetsk region, Ukraine, Tuesday, March 15, 2022. Photo by Alexander Ermochenko /REUTERS
Russian military aggression against Ukraine since Feb. 24 has launched irreversible damaging processes against Russia itself. From the end of the Cold War in 1991 to the first failed military campaign in Ukraine in 2014, Russian economics were integrated into the Western economic system. Its share in the world economy is limited – just 3.1% in 2019. It's dominated by the world economy, follows global trends and obeys the rules written by the civilized world.
The first blow of "blocking" sanctions hit the advanced technology sphere. On March 1, the director-general of "Roskosmos" corporation, Dmitriy Rogozin, announced the first stage of pay cuts for management and administrative personnel by 30%.
Another overwhelming hit was in the banking sphere. Russian financial analysts have been preparing to be cut off from the international SWIFT payment system, sanctions against Russian sovereign debt, and prohibition of transactions with Russian federal loan bonds at the secondary market. However, the banking system found itself helpless after the termination of SSL (Secure Sockets Layer) and TLS (Transport Level Security) cyber security certificates. As soon as global cybernetic giants switched Russian banks from secure protocols, they became a threat to their counter agents from abroad. Transactions between banks are strictly regulated and demand SSL certification provided only by the approved monopolists located in the U.S. The collapse of the Russian banking system was initiated when clients started withdrawing funds from their bank accounts, leaving accounts virtually open to hackers and cyber fraud. This led to rapid inflation and even urgent currency emissions by the Central Bank of Russia implemented on Feb. 24 brought no success; the ruble rate collapsed and crossed the psychological limit of 200 rubles per US$1.