Paranoid Hollywood turns to panic rooms as crime spikes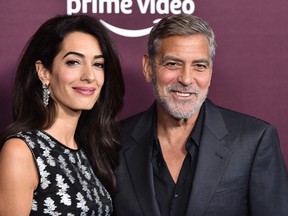 Amal Clooney (L) and husband George Clooney arrive for "The Tender Bar" premiere at the Directors Guild of America Theatre in Los Angeles on October 3, 2021. Photo by LISA O'CONNOR /AFP via Getty Images
Hollywood heavy hitters terrified of a dramatic spike in crime are laying out millions for panic rooms, a new report reveals.
According to the Hollywood Reporter, well-heeled denizens of the movie colony and other posh areas in southern California have become increasingly paranoid over a worrying spike in homicides and high-profile robberies.
Cryer said his company builds the rooms ranging in security levels from one to eight. Some rooms are protected by Kevlar and a tonne of steel.
A small, closet-sized panic room runs about $100,000 to $150,000 — and then it gets expensive.
"We've done one in London that had two rooms, full suites … and that was over a million dollars," Cryer said, adding that his client base consists mostly of billionaires.