Porn star Jenna Jameson 'not paralyzed' but battling 'extreme muscle weakness'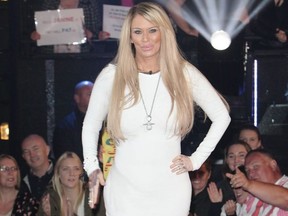 Jenna Jameson. Photo by Getty Images /Bang Showbiz
Jenna Jameson says is "not paralyzed" but she's battling "extreme muscle weakness."
The former adult film star has given an update on her ongoing health issues following her hospitalization in January after vomiting at home for two weeks and losing her mobility.
She added: "As you can see, yes, I'm able to move my legs. I'm not paralyzed. I am just dealing with extreme muscle weakness. Some issues with my left nerve."
Meanwhile, the 47-year-old star – who has four-year-old daughter Batel Lu with her partner Lior Bitton – admitted while her recovery is "messy" and "not fun," she likes "a good challenge."
She said: "I am fighting, I am kicking a**, I am taking names and soon I will be back up on my feet unaided, and life will be back to normal.