Queen Elizabeth to make 'early and dignified' entrance to Prince Philip's memorial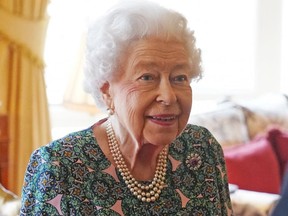 Queen Elizabeth is seen at Windsor Castle earlier this month. Photo by Avalon /Bang Showbiz
Plans are underway for Queen Elizabeth to make an "early and dignified" entrance to Prince Philip's memorial service.
The 95-year-old monarch has been struggling with mobility issues but is determined to join in with the celebration of her late husband's life at Westminster Abbey next week, so royal staff are exploring options for her to travel to the service in comfort and to avoid too much scrutiny.
While the queen is said to be reluctant to use a wheelchair in public, it is also being considered as an option.
"Understandably, the Queen doesn't want to be seen in a wheelchair," Ingrid Seward, editor-in-chief of Majesty Magazine, said of the proposals.
"But as the Head of State and someone who wants to be seen and needs to be seen, she might concede to a wheelchair. The best way of doing that is to make sure there are no photographs taken.