Randy Hillier hit with 'Freedom Convoy' charges including assaulting police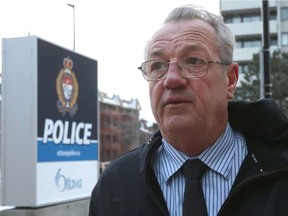 Randy Hillier pictured at Ottawa police headquarters on Monday where he turned himself in to police. Photo by Tony Caldwell /Postmedia
Lanark-Frontenac-Kingston MPP Randy Hillier was released from court with a long list of conditions after turning himself into police Monday morning to face nine criminal charges related to the weeks-long "Freedom Convoy" occupation of downtown streets.
One of those charges alleges Hillier, 64, encouraged his numerous social media followers to flood police non-emergency lines during the peak of the demonstration, when Ottawa police were pleading with the public to keep those phone lines open.
Hillier shouted "Let's go!" as he used his shoulder and hip to push the officer out of the way while a group of demonstrators forced their way through the barricade, according to the Crown's outline of the case.
About 10 hours after turning himself in at Ottawa police headquarters, puffing on a cigarette and telling reporters he was a freedom fighter being prosecuted for dissenting views, Hillier was released from the Ottawa courthouse and driven back to his home in Perth.
He is to reside there under the supervision of his wife, Jane Hillier, who will act as his court-approved surety after posting a $25,000 bond, while Hillier posted an additional $10,000 bond.