Residents recount horror on Oshawa street as man killed using wood chipper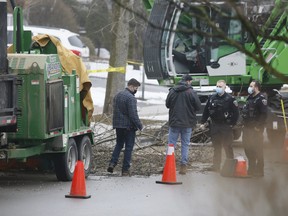 A worker using a wood chipper was killed in Oshawa Wednesday morning. Photo by Veronica Henri /Toronto Sun/Postmedia Network
An arborist was killed in a horrific workplace accident in Oshawa on Wednesday morning as a crew contracted by the city was removing a tree from Waverley Rd. N. near Dundee Ave.
"I saw his feet leave the ground. It was that quick," the neighbour said.
He said the ambulance stayed for about 20 minutes.
Staff from the Ministry of Labour and the Coroner's office were on scene most of the day.
A tarp covered the opening to the wood chipper as they conducted their investigation.