SIMMONS SAYS: Predators' Roman Josi is making a real push for Norris and Hart Trophies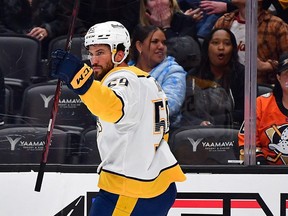 Nashville Predators defenseman Roman Josi celebrates his goal scored against the Anaheim Ducks. USA Today Sports
Roman Josi didn't really sneak up on anyone.
He has just been hovering, quietly, slightly below Cale Makar most of the season, maybe below Victor Hedman, just not anymore, where he was one point behind Auston Matthews in NHL scoring heading into Saturday night — and scoring isn't necessarily what Josi does best.
All of which is rather mind-blowing in a statistical kind of way.
No defenceman since Chris Pronger in 2000 has won the Hart Trophy. It may not happen this year that a defenceman is named MVP, but Josi is making a marvelous case for himself, showing up in places no one saw coming, no one thought was possible.
THIS AND THAT