SIMMONS SUNDAY: Adding at the NHL trade deadline doesn't always add up to success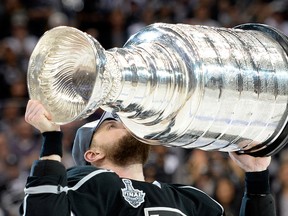 The acquisition of Marian Gaborik at the NHL trade deadline in 2014 certainly paid off for the Los Angeles Kings. Photo by Harry How /Getty Images
Do you have to make a deadline deal of consequence to win the Stanley Cup?
The answer isn't necessarily conclusive.
The trade forever referenced as the gold standard for deadline deals is the New York Islanders' acquisition of Butch Goring in 1980. The Islanders couldn't get over the hump without Goring. With him, they went on to win four straight Stanley Cups with the forward recording 62 playoff points in his first 78 post-season games with the Islanders.
The best pickup in recent history was Los Angeles' acquisition of Marian Gaborik, who scored 14 post-season goals for the 2014 champion Kings. That didn't work so well after the Cup win when the Kings signed him to an overly expensive deal.
Every year, six or seven teams make deadline trades looking to take their run at the Cup. One team wins. A lot are then left wondering why they gave up a first-round pick or a prospect of consequence for a guy who didn't make their team any better.