SLOBINSKY: Thirty years after the attack on an Israeli Embassy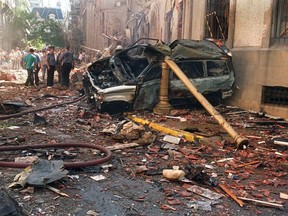 Police and rescue workers stand near destroyed cars and debris on March 17, 1992 in Buenos Aires shortly after a powerful bomb ripped through the Israeli Embassy, virtually destroying the five-story building and killing 29 people. Photo by DANIEL GARCIA /AFP/Getty Images
Thirty years later, I can still feel the dusty black cloud descend upon me. I remember the precise moment I learned about the attack on the Israeli Embassy in Buenos Aires that claimed 29 innocent lives and injured 242 more. In that moment, as a Jew, I knew I was no longer safe in the place my family had called home for four generations. Thirty years later, there is still no accountability for this atrocity, one that will never fade from my mind.
March 17 marks 30 years since the suicide bombing at the Israeli Embassy in Buenos Aires, Argentina, where a powerful explosive shattered the building, taking 29 lives. Among those murdered were three Israeli embassy personnel, six local embassy employees, and innocent Argentineans, including elderly residents of a nearby nursing home and schoolchildren on a passing bus.
As my heart continues to ache for my community, it is important to recognize that we cannot simply acknowledge these epic failures as relegated to the past. We must instead enact measures to prevent these perpetrators from promoting terror in the future, ensuring that justice is in fact served for the victims of these bombings and all those that came after it.
Backed primarily by Iran, Hezbollah remains a violent terrorist organization committed to the destruction of Israel. Both Hezbollah and one specific unit of Iran's Islamic Revolutionary Guard Corps (IRGC), the Qods Force, are listed as terrorist organizations by the Government of Canada, with the IRGC-Qods Force referred to as providing "arms, funding and paramilitary training to extremist groups, including the Taliban, Lebanese Hizballah, Hamas, Palestinian Islamic Jihad (PIJ) and the Popular Front for the Liberation of Palestine-General Command (PFLP-GC)."