SNOBELEN: The Canadian military deserves the best equipment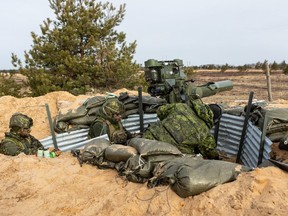 Members of the Canadian army participate in the Crystal Arrow 2022 exercise on March 8, 2022 in Adazi, Latvia. Photo by Paulius Peleckis /Getty Images
Back when I was happily ensconced with the good folks at Ontario's Ministry of Natural Resources (MNR), we confronted some interesting airplane options. It should be noted that, aside from picking an aisle seat, I'm not much of an expert on things that fly.
At the time MNR had an aging fleet of water bombers that reduced the effectiveness of the ministry's fire response.  Fires don't wait for equipment repairs. Managing Ontario's vast forests and providing meaningful assistance to other provinces and states requires reliable aircraft.
But the people who actually live in the path of forest fires weren't delighted with the thought of the government getting out of the fire suppression business.
The bean counters liked the idea of retrofitting the old airframes with new engines. Cheaper than buying new aircraft and sorta, kinda, almost as good.
The right political answer was the time-honoured study, restudy, and re-restudy strategy that kicks any decision (and cost) to some future government.