Stanford soccer star Katie Meyers' upcoming discipline could have led to suicide, her parents say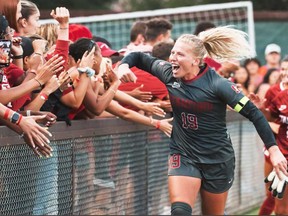 Katie Meyers is pictured in a photo shared on the Twitter accound of Stanford Women's Basketball. Photo by Stanford Women's Basketball /Twitter
The heartbroken parents of Stanford soccer goalkeeper Katie Meyer said they are struggling to understand her death, which they confirmed was by suicide.
In an interview on NBC's "Today" on Friday, Gina and Steven Meyer said they believe the pressures of school and sport could have impacted 22-year-old Katie and led to her death. She was found dead in her dorm room on Tuesday, and the medical examiner in Santa Clara County, Calif., later ruled her death was self-inflicted.
They said their daughter's death could have been linked to possible disciplinary action from Stanford.
"Katie, being Katie, was defending a teammate on campus over an incident and the repercussions of her defending that teammate (were possibly resulting in disciplinary action)," Steven said.
Gina Meyer said she believed her daughter received an email, which the parents hadn't read, that purportedly said "there was going to be a trial or some kind of something. This is the only thing that we can come up with that triggered something."