TAYLOR: Our courageous female pilots fought their way into WW II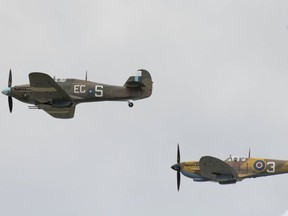 A Battle of Britain memorial flight (Hurricane left and Spitfire right) at RAF Fairford on July 21, 2019 in Fairford, England. (Getty Images)
Flying was in its infancy when the Second World War broke out. 
Just 36 years had passed since Wilbur Wright lifted himself off the ground at Kittyhawk, and the image of dashing young men in their flying machines was very much in vogue.  
A recruiting campaign, dreamed up, no doubt, by some earnest, male, marketing executive, pretty much summed it up.  
"We serve that men may fly!" it proclaimed.  
Unbelievably, this became something of a slogan for the WD.