TDSB teacher under investigation after mask segregation tweet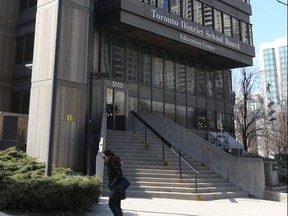 The Toronto District School Board head office located at 5050 Yonge St. in North York. Photo by Jack Boland /Toronto Sun
The Toronto District School Board has placed a teacher on home assignment pending an investigation into a tweet suggesting fellow teachers set up segregated seating in classes to separate masked from unmasked students.
"Teachers some best practice for you to implement for March 21: classrooms with a segregated seating plan. Students split into masked/unmasked sections. HEPA filters placed between the two," Peter Hasek tweeted. "Parents who choose to mask their kids will appreciate your consideration."
The school board was quick to respond.
"We strongly disagree with this social media post," TDSB spokesperson Ryan Bird said in an emailed statement. "The opinion shared by this staff member does not reflect the position of the Toronto District School Board and this will not be happening in any of our classrooms."
It is not known at which school Hasek teaches.