'THANKFUL FOR THE JOURNEY': Ontario Health Minister Christine Elliott won't seek June re-election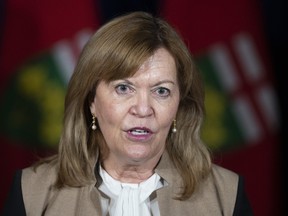 Christine Elliott, Deputy Premier and Minister of Health, speaks regarding the easing of restrictions during the COVID-19 pandemic in Toronto on Thursday, Jan. 20, 2022. Photo by NATHAN DENETTE /THE CANADIAN PRESS
Ontario Health Minister Christine Elliott announced Friday she will not seek re-election after "considerable reflection," a decision that will come as a blow to the Progressive Conservative government's re-election efforts.
Premier Doug Ford said Elliott is not only a trusted colleague, she is also a close, personal friend as their families have been connected for decades. Elliott's late husband, Jim Flaherty, served alongside Ford's father in the Ontario legislature.
At least nine other Progressive Conservative members have announced they will not seek re-election. Over the past few years, Ford has also lost seven other caucus members, having them either resign or kicking them out.
Elliott has long been a prominent and well-liked presence in Progressive Conservative politics.
She first entered politics in 2006, winning a byelection in Whitby, Ont., east of Toronto, when her husband vacated the seat to run federally. It became the first time in Canadian history that a husband and wife represented the same riding at the provincial and federal levels.