'The Bachelor' star was rejected by winner for the first time in show history – and then things got worse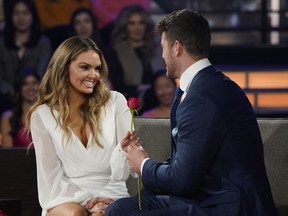 Susie Evans happily accepts Clayton Echard's rose on the finale, after previously rejecting him in the freezing Icelandic cold. Photo by Craig Sjodin /ABC
Although "The Bachelor" franchise is known for chaos, there are certain rules that stars of the show are supposed to follow.
First, if you fall in love with more than one person, just don't tell them. Everyone knows the lead is dating many contestants simultaneously, but there's an unspoken agreement not to show favoritism until the end.
The two-hour Season 26 finale on ABC was a culmination of a few brutally uncomfortable recent episodes, which started last week during the fantasy suite dates in Iceland. Clayton, a 28-year-old former football player from Missouri, thought it would be an excellent plan to tell two of his finalists (Rachel Recchia, a 26-year-old flight instructor from Florida, and Gabby Windey, a 31-year-old ICU nurse from Colorado) that he was falling in love with them.
They were thrilled to hear this, not realizing that he had made nearly identical declarations to both of them after leaving their rooms the morning after their respective dates.
Everything imploded when Clayton went on the third overnight date with Susie Evans, a 28-year-old wedding videographer from Virginia, and of course told her "I love you," too. In response, Susie asked whether he had been "intimate" with any other women and/or fallen in love with them. When Clayton admitted that he had, in fact, slept with Rachel and Gabby and had "feelings of love" for both, Susie was devastated and said she couldn't see moving forward with him. Clayton protested that he loved Susie "the most," but that didn't help; he became furious at her ultimatum, given that exploring relationships with multiple women is the premise of the show. Susie looked taken aback by his harsh reaction. He blamed her for not making her expectations clear from the beginning and then coldly told her to leave.