TODOROVA: Ontario's integrated approach to transportation planning offers many benefits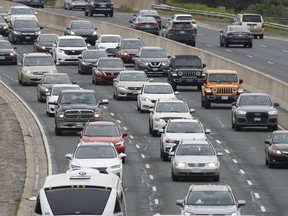 File photo of gridlock on the QEW eastbound on Aug. 1, 2021. Photo by Jack Boland /Toronto Sun/Postmedia Network
For decades, Ontario has underbuilt transportation infrastructure needed to get people and goods moving in the region spanning from Niagara to Oshawa to Barrie, and everywhere in between.
The argument is often polarized into a roads versus transit debate, resulting in far more debating than building, to the detriment of people and businesses alike. This needs to change.
Most importantly, it will expand travel options that do not force travellers through the centre of Toronto, which is currently far too often the case. Shifting away from the hub-and-spoke model will create a smoother, integrated transportation experience throughout the broader region by creating capacity where it is needed.
Beyond simply looking at transportation, it creates favourable conditions for greater densification throughout the region. The kind that facilitates a significant addition of desperately needed housing supply and clearing the way for more jobs, with greater proximity for people to those employment opportunities.
The cost of inaction is real. The gridlock the region experiences today already comes with significant economic costs — $11 billion per year in lost productivity and very real impacts on quality of life for residents. Long commutes cause strain on families, add stresses to daily life, and robs too many of life's most precious commodity, time.