Trucker who gave asylum seekers a ride across the border gets absolute discharge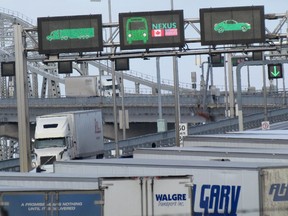 Trucks enter Canada from Michigan on the Blue Water Bridge near Sarnia. Photo by Paul Morden /The Observer
A Canadian trucker parked at a Michigan truck stop about two hours from the Sarnia-area border was approached in the fall of 2020 by a frantic family of strangers hoping to climb aboard.
"The children were crying and the parents shared their plight and their desperation to get to Canada, where they intended to seek asylum," Justice Deborah Austin said in a Sarnia courtroom while recapping the "unique and unusual" case. "Motivated by empathy for their distress, he agreed to drive them to the Canadian border to facilitate this plan."
"There's a great disparity in these positions," Austin said Friday while considering the two sides.
The international trucker became visibly emotional, placing his face in his hands, as the judge sided with Ceponis.
"I will, in this most unusual case, grant (him) an absolute discharge," she said.