VEZINA: Blaming Freedom Convoy protesters for protesting gets us nowhere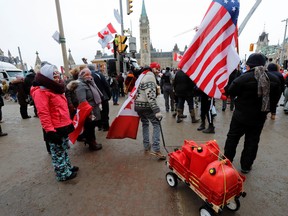 A man hauls canisters of fuel in front of Parliament Hill as truckers and their supporters continue to protest in Ottawa February 6, 2022. Photo by Patrick Doyle /REUTERS
As the Freedom Convoy protest continues in Ottawa, simply blaming the protesters for what is happening is, at least in part, misguided.
Let's go issue by issue, beginning with the claim by an Ottawa city councillor that the protesters are terrorists.
I've written in the past about why we should not let vague definitions of terrorism go unchallenged, but in this case there's an additional issue.
The fact the city council and police force have not already moved to break up the protest sends a message to the public that the protest is lawful.
Calling them terrorists only applies if, as a group, or operating on instructions from the leaders of the group, they are doing things the authorities can demonstrate are against the law and endanger public safety.
To be clear, desecrating a war memorial, violating city bylaws, uttering threats and assaulting people are unlawful. So are hate crimes.
But claiming that illegal acts done by individuals are the responsibility of everyone involved in the protest and therefore that the protesters are terrorists is guilt by association and would be hard to prove in court.
In general, people act in their own self-interest.
In a democracy, rule by the majority presupposes most people support the rule and that the minority are allowed to protest against it with the goal of changing the rule.