VEZINA: How to learn from what disasters teach us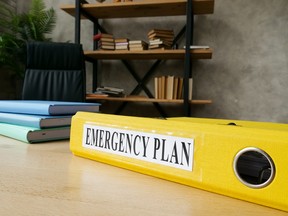 An emergency plan in a yellow folder. Photo by Stock art /Getty Images
Almost every time there is a disaster, when we look back, we find that previous lessons were not learned or solutions were not implemented.
After wars, pandemics, fires, floods, the question keeps being asked, "Why did we learn nothing from the past?"
The best way to address this is to find short-term benefits in long-term solutions. Start by planning a long-term goal and the things needed to achieve it, then find quick and easy wins to benefit people in the short term.
Reason 2: Optimism
When dealing with high consequence but low frequency events, people tend to believe it won't happen to them.