VEZINA: More guns do not automatically mean more deaths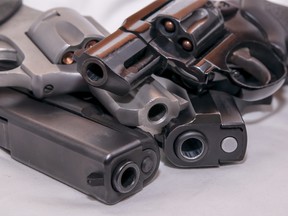 Four handguns, two pistols and two revolvers, a 9mm, 40 caliber, 357 magnum and a 38 special. Photo by Stock art /Getty Images
There is a narrative in Canada that more guns equals more deaths.
It turns out that may not actually be the case.
2. Comparing gun ownership to all homicides, using a statistical proxy to represent gun ownership. A statistical proxy is basically a "counts-as." The proxy used in these studies was gun suicides as well as gun homicides. These studies compared the incident of gun suicides or homicides against all homicides and then made conclusions about gun ownership, which was that when gun homicides go up, homicides go up, thus guns are bad. These studies assumed the relationship between gun ownership and the gun homicide rate was so consistent it could be used essentially interchangeably in doing the math, but this was not substantiated by the data.
3. Statistical conclusions made without using statistics. Some studies interviewed victims of gun crime and used their experience to make statistical arguments. Instead of focusing on the experience of the victim, which is a relevant field of study and appropriate for the scope of the study, one paper, for example, made the claim more guns equals more homicides because 10 people saw family members killed by people using guns. This is making a quantitative (measurable) conclusion by using qualitative (descriptive and immeasurable) data.