WARMINGTON: Arrested 78-year-old great-grandfather 'meant no harm' by honking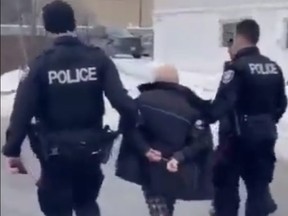 A screengrab from video of a handcuffed Gerry Charlebois with Ottawa Police officers on Sunday, Feb. 6, 2022.
The 78-year-old great-grandfather arrested and handcuffed by Ottawa Police after honking his horn in support for a protesting trucker said he was not a protester and was not looking for any trouble.
"I meant no harm," Gerry Charlebois told the Toronto Sun in an interview. "I just gave the trucker a thumbs-up and a honk."
"Never," he said. "He just pissed me off when he said that about the honking. It upset me."
Things deteriorated from there.
After attempting to get his identification from his wallet in the back of his minivan, Charlebois was taken down with the twisting of his arm and hand, and landed on one knee on the ground before being pressed against his van and then, with the help of a second officer, handcuffed behind his back.