WARMINGTON: Restaurant owners all smiles to hear end to indoor masking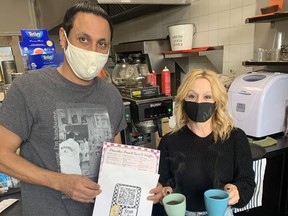 San and Maggie Aly, owners of Maggie's Diner in Port Credit. Photo by Joe Warmington /Toronto Sun
They couldn't hide the smiles under their masks, thrilled they will soon get to take them off permanently — or at least hopefully permanently.
They were building an all-day breakfast clientele that suddenly stopped. They tried takeout sales during the past two years but learned breakfast is not something people generally pick up.
"To meet our obligations both in rent and our mortgage and pay our bills, we have depleted our life savings to keep the business alive," San said.
The rebuilding of their business started the day the QR codes were dropped and will shift into higher gear March 21 when the province drops the mask mandates.
They are excited about the challenge and to see their customers again.