WILD: February home sales remain strong, despite cooler start to 2022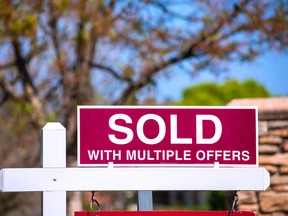 Sold with multiple offers real estate sign. Photo by Stock art /Getty Images
The Bank of Canada's modest 0.25% interest rate hike this week likely won't be the last in 2022.
Interest rates, even with the bump, remain at historically low levels and lower than they were pre-pandemic.
In time, additional rate hikes may help tap the brakes on prices but despite a slightly cooler start to real estate sales this year, February's home sales were still the second highest for the month in history, the Toronto Regional Real Estate Board (TRREB) reports.
"We have seen a slight balancing in the market so far this year, with sales dipping more than new listings," said TRREB chief market analyst Jason Mercer.
"However, because inventory remains exceptionally low, it will take some time for the pace of price growth to slow," Mercer said. "Look for a more moderate pace of price growth in the second half of 2022 as higher borrowing costs result in some households putting their home purchase on hold temporarily as they resituate themselves in the market."