WOKE WATCH: Disney execs want half its characters to be LGBTQ, minorities by end of year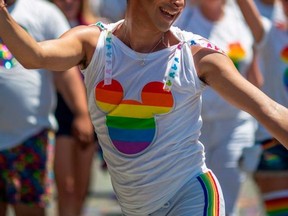 People from the Walt Disney Company participate in the annual LA Pride Parade in West Hollywood, California, on June 9, 2019.(Photo credit should read DAVID MCNEW/AFP via Getty Images) Photo by David McNew/AFP /Getty Images
Disney executives want to see more diversity and inclusivity in their shows and movies.
Karey Burke, president of Disney's General Entertainment Content, led the charge in a company-wide virtual call earlier this week that was posted to Twitter by journalist Christopher Rufo.
Burke was dismayed to learn that the company only had a "handful" of queer lead characters and asserted that she wanted at least half of Disney's characters to be part of the LGBTQIA community or a visible minority.
In that same call, executive producer Latoya Raveneau admitted to pushing a "gay agenda" for children's animation.
"In my little pocket of Proud Family Disney TVA, the showrunners were super-welcoming … to my not-at-all-secret gay agenda," Raveneau said in another video.