$1.2 billion Royal Beach development will bring thousands of new homes to Colwood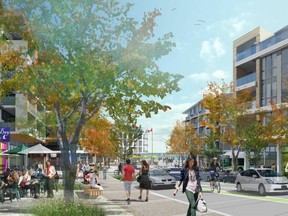 A rendering of the vision for the Royal Beach neighbourhood in Colwood. Photo by RELIANCE PROPERTIES /Times Colonist
VICTORIA — A pair of Vancouver-based developers say they will inject $1.2 billion into the massive Royal Beach residential and commercial development in Colwood, creating about 10,500 jobs over the next 15 years.
Reliance Properties, known for its Janion and Northern Junk developments in Downtown Victoria, is partnering with Seacliff Properties to build out the 135 acre parcel, with 1.4 kilometres of shoreline, starting with road improvements into the site this spring at Latoria and Metchosin roads along with work on a central plaza.
Royal Beach will be a collection of neighbourhoods totalling 2,850 single-family houses, townhomes and condos ranging from six to 12 storeys. Thousands of jobs are expected to be created in construction and in the commercial buildings and retail spaces as they rise.
Just over 47 acres of the site will be dedicated to public parks and green space.
Georgia Desjardins, director of development for Seacliff Properties, said Royal Beach presents a unique chance to develop the last significant waterfront lands in Colwood, "creating a new local, regional and national destination."
"To best realize the potential of Royal Beach, we wanted to work with a strong partner like Reliance Properties, who shares our vision and has a tremendous track record."
Jon Stovell, chief executive of Reliance, said the company has been looking for some time to build a quality development on the West Shore. Reliance is also reimagining 6.7 acres of Victoria's downtown in what would be one of the biggest developments in the city that could include a new home for the Art Gallery of Greater Victoria.