10 terms first-time B.C. homebuyers need to know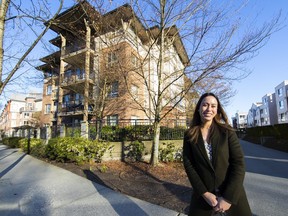 Mariko Baerg helps clarify deposits from down payments, and completion dates from possession dates. Photo by Francis Georgian /PNG
From selecting a realtor and scrolling through the MLS to checking your bank account, buying a home for the first time can be an intimidating prospect. Then there's all the lingo to learn, such as amortization and variable mortgage rate.
Here is a list of 10 terms that first-time homebuyers should know before wading into the Lower Mainland real estate market. We asked Bridgewell Real Estate Group's Mariko Baerg to help us separate our deposits from our down payments, and our completion dates from our possession dates.
2. Subject removal: Baerg calls this the buyer's "safety blanket. It's their time to do their due diligence." In a balanced market, she says, this is usually about five business days. Standard subjects are the conditions that need to be met before the buyer goes through with the purchase — including arranging finances, commissioning an inspection, and reading strata documents if applicable. "Once you've checked those boxes, you're ready to hand in the deposit. If during that time you weren't satisfied with something, like the inspection or strata documents," you'd be able to say, you're not removing the subjects because of an issue, which could be something like an upcoming special assessment or levy mentioned in the strata minutes.