A look at financial help and incentives for first-time homebuyers in B.C.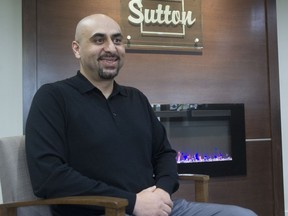 Abdul Safi of Sutton Premier Realty details what incentives are in place first-time homebuyers in B.C. Photo by Mike Bell /PNG
At first glance, it seems that first-time homebuyers have options when it comes to financial help and government incentives. But dig a little deeper and what looks like a good deal for cash-strapped buyers is either not much of one or based on unrealistic conditions.
To break it down, we talked to Abdul Safi, a mortgage specialist who works for TD in Guildford.
At TD, Safi facilitates about 20 to 30 applications per month. Half of those are from first-time homebuyers, and most are couples in their thirties. About half of them are in a position to take advantage of the HBP.
"It depends on your tax benefit you'd receive, and your investment strategy," he said.
"The HBP is a one-time kind of thing. If you're doing it once and your investment strategy is to purchase a second home let's say five years down the road, to continue to put money in RRSPs may not work since you can only take it out once. If the investment strategy is, 'I'm going to purchase one home, put money in RRSPs and then slowly withdraw when I'm 65,' yes, that works."