Boy, 14, falls to death from world's largest drop tower in Orlando amusement park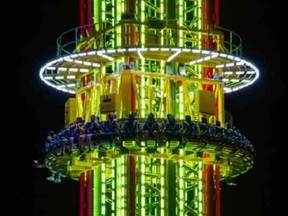 Orlando Free Fall. Photo by Twitter
A 14-year-old boy died after plunging from a drop tower ride at an Orlando area amusement park, authorities said.
Witnesses called police after they saw a person fall to the ground from the Orlando Free Fall ride at about 11 p.m. on Thursday night.
The Florida Department of Agriculture, which oversees amusement ride inspections with the exception of the state's largest theme parks, has launched an investigation and inspectors were at the site Friday, spokesperson Caroline Stoneciper said in an email.
The 131-meter-tall ride, which opened in December 2021, is billed as the "tallest free-standing drop tower in the world," according to the Icon Park website. It seats up to 30 riders and carries them up a central tower while rotating in the air. Once at the top, the seats tilts to face the ground and plummets at 120 km/h an hour, the website says
"We are absolutely saddened and devastated by what happened, and our hearts go out this young man's family," said John Stine, a sales director with the Slingshot Group, which owns the ride, to the Associated Press on Friday morning.