Canadian home prices up 20.6% but market could be nearing turning point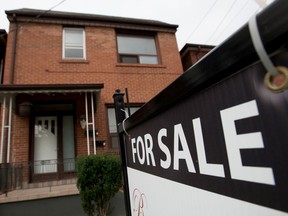 Home sales jumped 4.6 per cent from the month before, thanks to a 23.7 per cent increase in new listings. Photo by National Post
Canada's average home price rose more than 20 per cent from the year before in February to $816,720, according to data from the Canadian Real Estate Association.
Sales jumped 4.6 per cent from the lull in January, thanks to a 23.7 per cent increase in new listings. Though strong, the sales fell 8.2 per cent short of the record set in February 2021.
CREA's non-seasonally adjusted benchmark House Price Index rose by a record 29.2 per cent year-over-year in February. However, the market could be at a turning point for prices.
"Combined with higher interest rates and higher prices, we could be at a turning point where price growth begins to slow down and inventories finally begin to recover after seven years of declines," Cathcart said. "Still, in order to turn this market back towards balance long-term, building more new homes across the spectrum remains the key."
The association said that the price gains were largely driven by sales in Toronto and Vancouver.