Caring for a family member living with dementia at home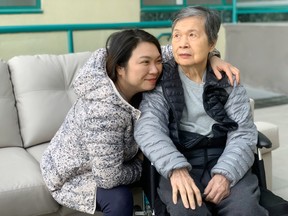 Brenda Wong and her mother, Chui Foon Chou. SUPPLIED
"Within a few minutes, our cousin received multiple phone calls from my mother, asking the same question," says Brenda Wong, describing the moment she and her sisters Bonnie and Wendy realized that something had changed with their mother, Chui Foon Chou. Foon was eventually diagnosed with Alzheimer's disease.
When she was younger, Foon managed a family business alongside her husband. "My mother was good at sewing, and many of our clothes and school uniforms were tailored by her own hands," Wong says. Watching her mother gradually become unfamiliar with routine tasks was challenging.
According to the Canadian Institute for Health Information, about 61 per cent of Canadian seniors living with Alzheimer's disease or other dementias are living at home and require resources like the programs and services offered as part of the Alzheimer Society of B.C.'s First Link dementia support. These services are available throughout the progression of the disease – from diagnosis (or before it) to end-of-life.
Foon's daughters connected to First Link through an education workshop in Richmond. They continue to receive support from the Alzheimer Society of B.C. and have met other caregivers along the way, sharing their experiences to support each other.
Fourteen years later, Foon remains at home, thanks in part to the confidence the family has received via access to Alzheimer Society of B.C. programs and services. "It doesn't matter where someone is on the journey, they can ask for help," Wong says. "No one should have to walk this journey alone."