Century old-plus bottles bring Metro Vancouver Chinese workers' history to light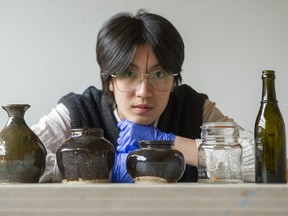 Queena Li with some of the historic glassware and bottles she helped recover and catalogue for the PoCo Heritage Museum and Archives, items that date back more than 100 years and used by Chinese labourers in early industrial Canada. 'I speak Mandarin, and I looked into the bottles and transcribed the characters and interpreted and translated them,' says Li, a Grade 10 student. Photo by Arlen Redekop /PNG
From vessels for wines and sauces to medicines and perfumes, some long-lost, century-old glassware is shedding light on Metro Vancouver history.
That's what PoCo Heritage Museum and Archives staff and young volunteers found when they recently pried open some sealed boxes that had been stuffed in the attic of a Port Coquitlam firehall.
"I speak Mandarin, and I looked into the bottles and transcribed the characters and interpreted and translated them," says Queena Li, a Grade 10 student who initially volunteered to take stock of the heritage museum and archives' object collection.
"We had to go in and record what was there and Queena was helping with that when we came across the boxes filled with glassware," says museum and archives curator Alex Code.
One of the other young volunteers working with Li recalled using some of the medicines herself when she lived in China and this helped to make sense of the writing on one of the bottles, says Code.