Chinatown seniors isolated by racism, crime and poverty find cultural connections through new food program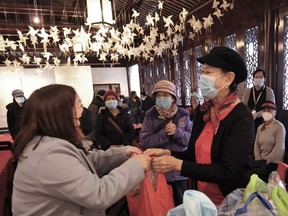 Wang Zhao (right) gets an extra present on this, her 70th birthday: Some groceries that are part of a new outreach program in Chinatown that provides seniors with culturally appropriate fresh produce. Photo by NICK PROCAYLO /PNG
Two dozen Chinese elders, mostly women, are gathered around tables draped in crimson cloth under a ceiling decked with white paper pinwheels at Vancouver's Dr. Sun Yat-Sen Classical Chinese Garden.
A volunteer circles with a porcelain teapot to refill their paper cups, but he is quickly shooed away. There are more important matters to attend to: Help with the lifeline that keeps them connected to family, and each other. Their cellphones.
Xiao 孝, or "filial piety," the offering of love, respect and support to one's parents or elders, is a key tenet and value in Chinese culture, and it's something organizers and volunteers hope this program will provide, along with the food and friendship.
For many of these low-income seniors, this is their first visit to the garden, the Chinatown jewel that has long been a cultural hub, education centre and gathering place.
Pandemic closings, loss of legacy Chinese-owned small businesses, economic marginalization, anti-Asian hate crimes and very real threats to safety have created a maze of barriers that effectively bar local seniors from accessing much of their own community.