Chip Wilson makes $100 million donation to fund research for cure to a genetic muscle disorder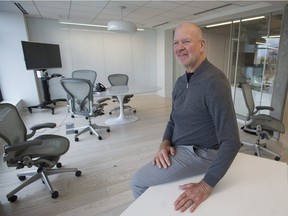 Chip Wilson, one of B.C.'s wealthiest businessmen, is making a $100 million donation to fund research for a cure to facioscapulohumeral muscular dystrophy, a rare genetic disorder that leads to muscles weakening and wasting on the face, shoulder blades and upper arms. Photo by Jason Payne /PNG
Chip Wilson, one of B.C.'s wealthiest businessmen, is making a $100 million donation to fund research to find a cure for facioscapulohumeral muscular dystrophy, a rare genetic disorder that leads to muscles weakening and wasting on the face, shoulder blades and upper arms.
The donation is among the largest philanthropic gifts in B.C. and Canadian history and will go to setting up a new venture called Solve FSHD that will have a goal of finding a cure by 2027 by targeting the underlying genetic cause or improving muscle function and growth.
According to Bloomberg's Billionaire Index, Wilson is among the 500 richest people in the world and has a net worth of US$5.68 billion. He is the founder of Lululemon Athletica, which is headquartered in Vancouver and listed on the Nasdaq exchange with a market cap of US$36.88 billion. He no longer has a management role at the company, but continues to be one of the largest individual shareholders.
Wilson's family charity foundation, which is known as Wilson 5 Foundation and also headed by his wife, Summer Wilson, has in the past made donations to support land conservancy, park creation and sharing public art.
In 2017, businessman Jim Pattison made a $75 million donation to establish the Jim Pattison Medical Centre at St. Paul's Hospital, which described it as the largest donation in Canadian history by a private citizen to a single medical facility.