Community shop in urgent need of 'life-changing' bike donations for DTES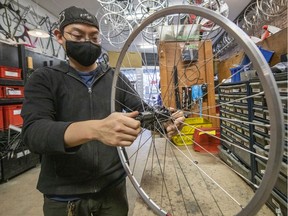 Cavan Hua, volunteer coordinator and mechanic at Our Community Bikes, works on a bicycle at 2429 Main St. in Vancouver on March 18. Photo by Francis Georgian /PNG
Don't leave old bikes to rust, consider donating them.
That's the urgent plea from Our Community Bikes, a non-profit group in East Vancouver that refurbishes bikes for low-income residents, that is running low on bicycle supply.
Suderman estimates the need for 700 more recycled bicycles and additional parts donations to cover what's needed for 2022.